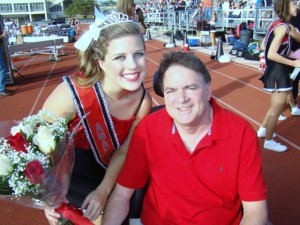 She woke me at 2 AM. "We need to go now. I've been having contractions for a couple of hours. Dr. Perez is going to meet us at the hospital."
Linda woke three year old Lauren and got her ready to go. I loaded the bags into the van and put our old dog Ginger in the garage. The plan was to drop Lauren off at our friend's house on the way to the hospital.
Just as we got in the van, Linda's water broke so we altered our plan and headed straight for the hospital.  I left Linda to navigate early labor at the hospital on her own and drove Lauren to our friends' place.  Then it was back to the hospital only to discover that our baby daughter had already arrived.
I spent some time getting acquainted with the newest member of our family.  We had yet to choose a name but Alison (Linda's choice) and Amanda (my choice) were top contenders. I headed home to take a shower and change clothes while Linda and the baby rested.
Turning into the driveway, I pushed the button on the garage door opener.  Before I could pull the van inside, Ginger darted out of the garage and made a beeline for the neighbor who was standing in her yard.  I watched in horror as the dog, who had recently taken to biting me without provocation, began attacking her.
With the car still in drive, I jumped out of the van to rescue my neighbor. I chased that cantankerous old dog until she slammed into a mailbox post and stunned herself.  Once I retrieved her, I returned to check on my neighbor and apologize.  While all of this took place, the van, still in drive, went tooling toward the garage, smashing into the opening, which ended up being a good thing.  If it had made it into the garage it would have plowed through the wall straight into the kitchen.
I took my shower and headed back to the hospital, in my van that now sported a major dent in the hood, but not before dropping the dog off at the vet's office one last time.  You know that saying about when one life ends another begins…
It took some time before I arrived back at the hospital and shared the entire story with Linda.  That's when I found out that while I had been gone, Linda had been pressed by the hospital staff to name our daughter. She had chosen the name Amanda.
It may have started out with some high drama but the day Mandy was born will always be one of the best three days of my life. And in keeping with a long standing tradition, here is the song I always crank up on her special day.
Happy birthday, Mandy!