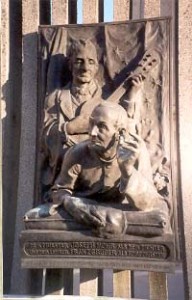 Christmas Eve 1818. The carol "Stille Nacht! Heilige Nacht" was heard for the first time in a village church in Oberndorf, Austria. The voices of assistant pastor, Father Joseph Mohr, and choir director, Franz Xaver Gruber, rang through the church. accompanied by Father Mohr's guitar. On each of the six verses, the choir repeated the last two lines in four-part harmony.  A song was born that would wing its way into the hearts of people throughout the world. Now translated into hundreds of languages, it is sung by untold millions every December. From small chapels in the Andes to great cathedrals in Antwerp and Rome.
Though meant for a performance in a church, "Silent Night" was composed for guitar. That is rather unusual for those days. Joseph Mohr's guitar still can be seen at Hallein's Franz Gruber Museum.
Today books, films, and Internet sites are filled with fanciful tales purporting to tell the history of "Silent Night." Some tell of mice eating the bellows of the organ, creating the necessity for a hymn to be accompanied by a guitar. Others claim that Joseph Mohr was forced to write the words to a new carol, in haste, since the organ would not play. A recent film, created for Austrian television places Oberndorf in the Alps and includes evil railroad barons and a double-dealing priest, while a recent book by a German author places a zither in the hands of Franz Gruber and connects Joseph Mohr with a tragic fire engulfing the city of Salzburg.
You can read claims that "Silent Night" was sung on Christmas Eve in 1818 and then forgotten by its creators. Of course, the latter is easily discounted by manuscript arrangements of the carol by both Mohr and Gruber which were produced at various times between 1820 and 1855. In this age of tabloid journalism, it's not surprising that some feel it necessary to invent frivolous anecdotes and create fables for a story that is quite beautiful in its simplicity.
Father Joseph Mohr

A young priest in Mariapfarr. The words for the carol we know as "Silent Night" were written by Joseph Mohr in 1816. He was a young priest assigned to a pilgrimage church in Mariapfarr, Austria. His grandfather lived nearby. One could imagine him coming up with the words while walking through the countryside to visit his elderly relative. The fact is, we have no idea if any particular event inspired Joseph Mohr to pen his poetic version of the birth of the Christ child. The world is fortunate, however, that he didn't leave it behind when he was transferred to Oberndorf the following year (1817).
Franz Gruber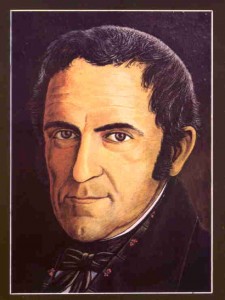 On December 24, 1818, Joseph Mohr journeyed to the home of musician-schoolteacher Franz Gruber. He showed his friend the poem and asked him to add a melody and guitar accompaniment. This is because he wanted to sing it at Midnight Mass. His reason for wanting the new carol is unknown. Some speculate that the organ would not work. Others feel the assistant pastor, who dearly loved guitar music, merely wanted a new carol for Christmas.
via Silent Night. The history of a famous carol.
This will be my final post on the topic of Christmas music. I wish all of you a very Merry Christmas and a happy New Year.
Brad