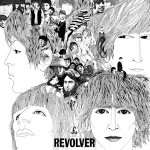 On August 8, 1966 the Beatles released Revolver in the United States. It had been released in the United Kingdom three days earlier. The record spent 34 weeks on the UK Albums Chart, for seven of which it held the number one spot. In America, the album topped the Billboard Top LPs listings for six weeks. Revolver marked a progression from the group's 1965 release Rubber Soul in terms of style and experimentation, and heralded the band's arrival as studio innovators.
Revolver's cover artwork, designed by Klaus Voormann, earned the Beatles the 1966 Grammy Award for Best Album Cover, Graphic Arts. The album was ranked first in Colin Larkin's book All-Time Top 1000 Albums and third in Rolling Stone magazine's list of the 500 greatest albums of all time. The album has been certified 5x platinum by the Recording Industry Association of America.
"Eleanor Rigby" was written by Paul McCartney, and credited to Lennon–McCartney. The song continued the transformation of the Beatles from a mainly rock and roll / pop-oriented act to a more experimental, studio-based band. With a double string quartet arrangement by George Martin and striking lyrics about loneliness, "Eleanor Rigby" broke sharply with popular music conventions, both musically and lyrically.[3]Richie Unterberger of Allmusic cites the band's "singing about the neglected concerns and fates of the elderly" on the song as "just one example of why the Beatles' appeal reached so far beyond the traditional rock audience". 
"Eleanor Rigby" does not have a standard pop backing. None of the Beatles played instruments on it, though John Lennon and George Harrison did contribute harmony vocals. "Eleanor Rigby" employs a classical string ensemble—in this case an octet of studio musicians, comprising four violins, two violas, and two cellos, all performing a score composed by producer George Martin.  For the most part, the instruments "double up"—that is, they serve as a single string quartet but with two instruments playing each of the four parts. McCartney's choice of a string backing may have been influenced by his interest in the composer Antonio Vivaldi, who wrote extensively for string instruments (notably "the Four Seasons").
I encourage you to click on a hyperlink above to read the full story about both the Revolver album (including John Lennon's "Bigger than Jesus" controversy) and song Eleanor Rigby.