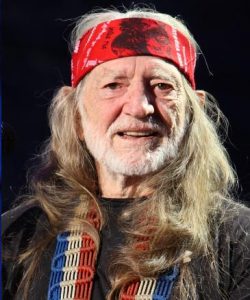 "Pretty Paper" is a song written by country music singer-songwriter Willie Nelson in 1963. After being signed to Monument Records, Nelson played the song for producer Fred Foster. Subsequently, Foster pitched the song to Roy Orbison, who turned it into a hit. Nelson recorded his own version of the song in November 1964.
The song tells the story of a street vendor who, during the holiday season, sells pencils and paper on the streets. In October 1963, while walking in his farm in Ridgetop, Tennessee, Nelson was inspired to write the song. It reminded him of a man he often saw while he lived in Fort Worth, Texas. The man had his legs amputated and moved with rollers, selling paper and pencils in front of Leonard's Department Store. To attract the attention of the people, the man announced, "Pretty paper! Pretty paper!"
In 2013, the Fort Worth Star-Telegram identified the man as Frankie Brierton, of Santo, Texas. Brierton refused to use a wheelchair, choosing instead to crawl, as he learned to move while growing up after his legs were affected by a spinal disorder. Brierton sold pencils in Fort Worth, Dallas, and Houston. As noted by the Fort Worth Star-Telegram article, Brierton suffered from childhood meningitis, and while both legs below the knee were atrophied, they were not amputated.
The record by Orbison was released in November 1963. The song peaked at number 10 on Billboard's Adult Contemporary Chart, 15 on the Billboard Hot 100 and 27 on the Christmas Singles Chart. Also, it was released in the UK in November 1964. It peaked at #6 on the UK Singles Chart. The song was included on More of Roy Orbison's Greatest Hits in 1964 and has appeared on numerous compilations through the years.