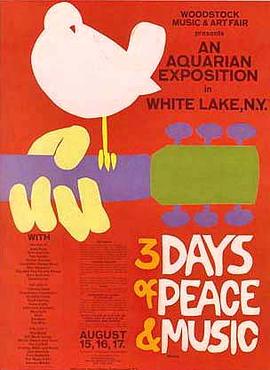 50 years ago today, the last of the faithful Woodstock attendees heard the festival's final performance. The Woodstock Festival, held August 1969, was a watershed moment in the 1960s. The three-day music concert drew an estimated 500,000. Early estimates of attendance increased from 50,000 to around 200,000. However, by the time the gates opened on Friday, August 15, more than 400,000 people were clamoring to get in. 
Tickets for the three-day event cost $18 in advance and $24 at the gate (equivalent to about $120 and $160 today. Those without tickets simply walked through gaps in the fences. The organizers were eventually forced to make the event free of charge. 
The original venue plan was for the festival to take place in Wallkill, New York. After residents shot down that idea, concert promoters thought they had found another possible location in Saugerties, NY. After Saugerties and Wallkill declined to provide a venue for the festival, a local dairy farmer, Max Yasgur leased one of his farm's fields for a fee that festival sponsors said was $10,000. The late change in venue did not give the festival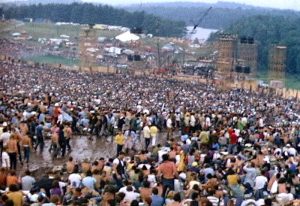 organizers enough time to prepare. They put all remaining available resources into building the stage. In fact, it wasn't completed until the first musician was performing.
Lost in the haze of 1960s nostalgia is the fact that Woodstock was a traffic-snarled, rain-soaked, mud-caked mess. Woodstock could have been one of the greatest disasters in human history. On Sunday, high-voltage cables became unearthed during a massive thunderstorm. Thankfully, this did not result in mass electrocutions. Also, when food stands ran out of food. local residents emptied their pantries and farmers donate eggs. The US military also sent helicopters full of doctors to help festival-goers with medical needs. 
Max Yasgur Addresses the Crowd
The 60s were arguably the most divisive, turbulent decade in 20th Century America. It brought a backdrop of an unpopular Vietnam war, illegal drugs, and widespread government distrust. It was a decade of rebellion. But the hippies just wanted to get away, listen to music, and spend time with kindred spirits. Ironically, it took a conservative Republican who supported the Vietnam War to pull it off. Max Yasgur felt that the Woodstock festival could help business at his farm and also tame the generation gap. But perhaps this humble farmer captured the mood when he addressed the crowd on the final day: 
I'm a farmer. I don't know how to speak to twenty people at one time, let alone a crowd like this. But I think you people have proven something to the world–not only to the Town of Bethel, or Sullivan County, or New York State; you've proven something to the world. This is the largest group of people ever assembled in one place. We have had no idea that there would be this size group, and because of that, you've had quite a few inconveniences as far as water, food, and so forth.

Your producers have done a mammoth job to see that you're taken care of… they'd enjoy a vote of thanks. But above that, the important thing that you've proven to the world is that a half a million kids–and I call you kids because I have children that are older than you–a half million young people can get together and have three days of fun and music and have nothing but fun and music, and I God bless you for it!
So each of us gets to decide what version of Woodstock we want to remember. I have to admit, I am a little bit envious of those who were there in 1969. One person returning to that small patch of land last week remarked: "It just wouldn't happen like that today," she said. "Because of the environment in the world, people would be worried to have it so loose." But for one weekend the planets aligned and a generation of idealists enjoyed Three Days of Love and Music.