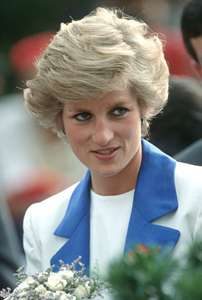 Shortly after midnight on August 31, 1997, Diana, Princess of Wales—affectionately known as "the People's Princess"—dies in a car crash in Paris. She was 36. Her boyfriend, the Egyptian-born Dodi Fayed, and the driver of the car, Henri Paul, died as well.
Princess Diana was one of the most popular public figures in the world. Therefore, her death was met with a massive outpouring of grief. Mourners began visiting Kensington Palace immediately. They left bouquets at the home where the princess, also known as Lady Di, would never return. Eventually piles of flowers reached some 30 feet from the palace's gate.
Dodi and the driver were pronounced dead at the scene. Diana was taken to the Pitié-Salpêtrière hospital and declared dead at 6:00 am. Also, a fourth passenger, Diana's bodyguard Trevor Rees-Jones, was seriously injured but survived. Her former husband Prince Charles, her sisters, and other members of the Royal Family, arrived in Paris that morning. Diana's body was then taken back to London.
Living Life Under a Microscope
Like much of her life, her death was a full-blown media sensation, and the subject of many conspiracy theories. At first, the paparazzi hounding the car were blamed for the crash. However, it was later revealed that the driver was under the influence of alcohol and prescription drugs. A formal investigation concluded the paparazzi did not cause the collision.
Diana's funeral in London, on September 6, was watched by over 2 billion people. She was survived by her two sons, Prince William, 15 at the time, and Prince Harry, who was 12.
Source: history.com
Goodbye England's Rose
"Candle in the Wind 1997" is a song by Bernie Taupin and Elton John, A re-written and re-recorded version of their 1973 song "Candle in the Wind". It was released on 13 September 1997 as a tribute single to Diana, Princess of Wales. Global proceeds from the
song went to Diana's charities. The song was written by Taupin, produced by Sir George Martin, and is the second best selling single in history.
The 1997 version won John the Grammy Award for Best Male Pop Vocal Performance at the 40th Grammy Awards ceremony in 1998. At the 1998 Brit Awards the song was nominated for the Brit Award for Best British Single. The lyrics of the earlier version of "Candle in the Wind", also written by Taupin, were a tribute to Marilyn Monroe. The opening lines of the 1973 version, "Goodbye Norma Jean, though I never knew you at all," were adapted to "Goodbye England's rose, may you ever grow in our hearts." Most of the lyrics were adapted to suit the circumstances of Diana's life and death.