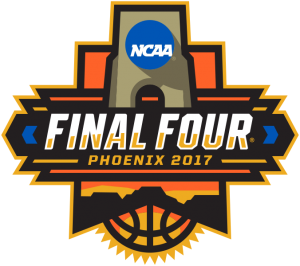 And then there were four. All that madness has led us here: the final weekend of the NCAA tournament. Saturday's Final Four will whittle the field to two, and Monday night, we will have a national champion. Will it be tournament darling South Carolina? Gritty Gonzaga? The persistent Oregon Ducks? Or reliable North Carolina?
Gonzaga (-6.5) vs. South Carolina
Time: 6:09 p.m.
In 2009, the last time NCAA tournament games were played at cavernous University of Phoenix Stadium, the teams combined to shoot just 27 percent (25 of 92) on three-pointers over three West Region semifinal and final games. Fast-forward eight years, and Gonzaga and South Carolina have been two of the stingiest teams in the country when it comes to allowing three-pointers. The Bulldogs rank fourth nationally in three-point defense at 29.3 percent while the Gamecocks rank eighth at 30.1 percent. In other words, it could be a long night from long range for both teams, neither of whom are known to be particularly strong three-point artists. Another reason to think points might be in short supply: Gonzaga ranks first nationally in Ken Pomeroy's defensive efficiency metric, allowing 86 points per 100 possessions, while South Carolina ranks second (87.8).
I am rooting for the underdog Gamecocks. From his album "Charleston,  SC 1966" here is an inspiring piece by native son Darius Rucker.
North Carolina (-5) vs. Oregon
Time: Approx. 8:49 p.m.
Three-pointers also could come into play in Saturday's second national semifinal: Of the four teams remaining, Oregon has both taken the most three-pointers in the NCAA tournament (81) and made the highest percentage of them (43.2 percent, up from their regular season average of 39.2). North Carolina, meanwhile, has seen the biggest drop in three-point percentage out of the four remaining teams: The Tar Heels are shooting just 32.1 percent from three-point range in the tournament, down from 36.6 percent in the regular season (they made just 3 of 15 attempts in their Elite Eight win over Kentucky). Oregon's opponents are shooting just 31.1 percent from three-point range this season (16th nationally). North Carolina holds the obvious edge in big-game experience, as the Tar Heels played for the national title last season and it's the ninth Final Four for Coach Roy Williams, but don't discount an Oregon program that's played in 15 NCAA tournament games over the past five seasons.
I usually like to root for the underdog. However North Carolina is one of my favorite teams. I would love to see an NCAA final with two Carolina teams. When I think of musicians from North Carolina JT is the obvious choice.