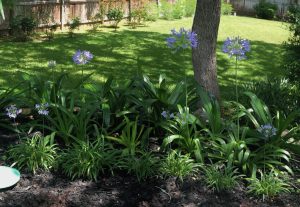 It has been a strange week for weather in San Antonio. A tropical system brought in moisture from the Gulf of Mexico. In addition, gale force winds knocked down trees and power lines throughout the city. We even ended up with one of our patio chairs in the pool.
Other parts of the city received nickel size hail. Juan told me his landscaping took a terrible beating with many plants losing their blooms. Many parts of the city lost power for several hours. Yesterday we hit 100° for the first time this year. However, it will not be the last.
Mother nature has not been kind to folks from Texas, Oklahoma, Kansas, and Missouri this year. These states are dealing with flooding, tornado damage, etc. How has this spring's weather affected you?
The primary beneficiaries of this weather pattern are the plants in our landscaping. We have not yet turned on our sprinkler system. However, our plants are flourishing. 

Fortunately, most of us can stay inside when violent weather strikes. As I was watching the downpour fill my pool this Bob Dylan song came to mind. Enjoy!