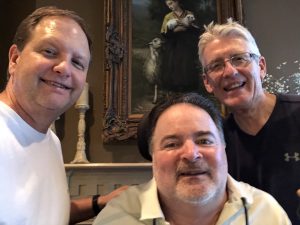 Today I am in the midst of a weekend staycation. Marty and Steve arrived on Friday to spend the weekend with me. I have known lease two fraternity brothers over four decades. We spent our college days at what is now Missouri State University in the late 1970s. 
After graduating Marty and I began working at Southwestern Bell in St. Louis. In 1993 Southwestern Bell, (Southwestern Bell Corporation after the AT&T divestiture) moved its corporate headquarters and my job to San Antonio. Marty and Steve came to San Antonio a few years later. After a series of acquisitions, Southwestern Bell Corporation would become AT&T. AT&T moved its headquarters to Dallas about 10 years ago. Marty and Steve followed their jobs to the metroplex. 
We still get together each year to watch the Super Bowl. However, this is only the second time Marty, Steve and I spent the weekend without our wives. I believe this break in routine is great for all six of us.
So, while the cat's away ……