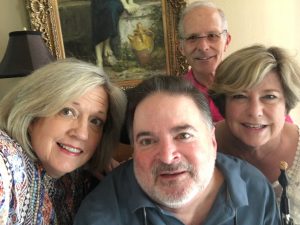 Our friendship with Jenny and Dave began in the 1980s when we lived in St. Louis. We vacationed together during this period, including two ski trips to Colorado. Today I want to tell you about the second time we went skiing. 
Dave played the role of chauffeur, picking us up at the airport in our limousine. He rented a (not so) luxurious ride from "Rent-a-Lemon", and it lived up to its name. This beauty had a driver's seat with permanently reclining back, and a passenger window that would not roll up completely. The rear seat was not secured so that every time you hit the brakes it lurched forward. The aroma in the car was reminiscent of wet dog. This should have been an indication of what was to come.
The condo was lovely and had a private hot tub in the back. At that point we felt like the worst was over. Silly us. The previous guests had left us with a non-working toilet. This necessitated frequent trips to the gas station for the daily paper while we waited for the plumber to arrive. Breckenridge plumbers didn't work weekends.
On the Slopes
Linda was the fashionista, with matching ski bibs, coat, hat, gloves, and goggles. She was very stylish as she cautiously snowplowed her way down the green slopes. In sharp contrast, Dave tackled the black slopes sporting a new Thinsulate coat. As we rode the lift during whiteout conditions, he lamented losing his drab gray down filled coat. After tearing a hole in the sleeve on a tree branch, he had remedied the problem with duct tape. To save Dave from embarrassment, Jenny had given it to a homeless man in Houston. As intermediate skiers, Jenny and I preferred the blues. I enjoyed skiing fast. Coincidentally, I fell frequently and once tweaked my knee. Dave, Linda and Jenny on the other hand, rarely fell. However, Dave did fall while skiing with Linda on the green slope. Apparently he was skiing too slowly to remain upright.
We always enjoyed a cup of hot chocolate in the ski lodge at the end of the day. After a hearty dinner, a soak in the private spa, and a good night's rest, life was good.
After a few days we were physically exhausted. Linda and I flew back to St. Louis; Jenny and Dave returned to Houston.
This week they came to visit. We talked about our families, ate too much junk food, and enjoyed a trip down memory lane. We remain good friends, despite heeding different calls which forced our physical separation.