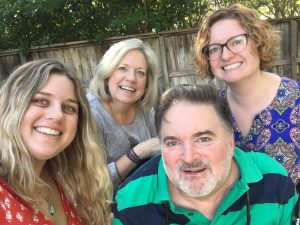 Lauren and Amanda came to San Antonio for Mother's Day weekend. Since she won't be back for Father's Day, Lauren brought my Father's Day gift with her. A jar of Michigan cherry ice cream topping from Traverse City, the "Cherry Capital of the World." Michigan is the nation's largest producer of cherries. Yum! 
Old Man Winter has not been kind to the residents of Michigan this year. However, these hearty souls are being rewarded with the gift of spring. As much as I enjoy the San Antonio winters I must admit, I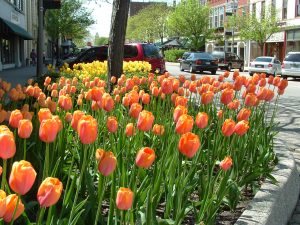 do miss spring and fall. Lauren told me the tulips were just starting to bloom.
A person from Michigan is called a Michigander. Residents of the Upper Peninsula are sometimes referred to as "Yoopers" (a phonetic pronunciation of "U.P.ers"). They sometimes refer to those from the Lower Peninsula as "trolls" because they live below the bridge (see Three Billy Goats Gruff). 
Michigan is perhaps best known for Motown/soul music. For example The Supremes, The Temptations, The Four Tops, The Spinners, Smokey Robinson and the Miracles, and Martha and the Vandellas
Stevie Wonder, Marvin Gaye, Aretha Franklin, and Al Green were from Michigan.
But Michigan music goes far beyond Motown. Here are a few examples: Tommy James and the Shondells, Grand Funk Railroad, Madonna, Bob Seger, and Alice Cooper.
"Dancing in the Street" is a song written by Marvin Gaye, William "Mickey" Stevenson, and Ivy Jo Hunter. It first became popular in 1964 when recorded by Martha and the Vandellas whose version reached No. 2 on the Billboard Hot 100 chart and peaked at No. 4 in the UK Singles Chart. Consequently, it is one of Motown's signature songs and is the group's premier signature song.