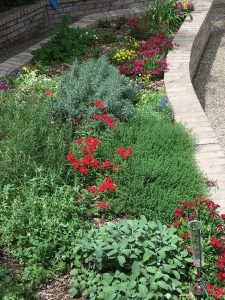 Linda had one request when we built our house in 1999. That was to build a place for a small garden where she could grow herbs. Because the pool deck is about 3 feet lower than our patio, I wanted to build a ramp In case I ever needed it. Working with our architect and builder we came up with a solution that met both our needs. As we celebrate the 20th anniversary of moving into this house (we moved in Memorial Day, 1999) this is one decision that has stood the test of the time. 
In general use, herbs are plants with savory or aromatic properties that are used for flavoring and garnishing food, medicinal purposes, or for fragrances. Herbs have a variety of uses including culinary,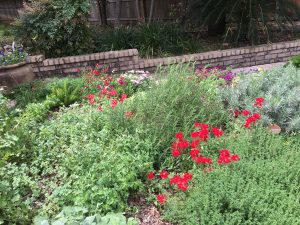 medicinal, and in some cases, spiritual. General usage of the term "herb" differs between culinary herbs and medicinal herbs.
Herbs can be perennials such as thyme, sage or lavender, biennials such as parsley, or annuals like basil. Perennial herbs can also be shrubs such as rosemary or lavender. There are some, such as those in the mint family, that are used for both culinary and medicinal purposes.
Scarborough Fair
"Scarborough Fair" is a traditional English ballad that plots a visit by an unidentified person to a Medieval fair. Said fair is in the Yorkshire town of Scarborough.
It tells the tale of one who instructs a third party to take a message to his Scarborough lover. He wants her to perform some impossible tasks. For example, making a shirt without seams or needlework and washing it in a dry empty well. Adding that if she were to complete these tasks he would take her back into his affections. Often the song is sung as a duet, with the woman giving her lover a series of equally impossible tasks. Thus promising to give him his seamless shirt and her heart once he has finished.
Simon & Garfunkel set it in counterpoint with Simon's anti-war lyrics. "Scarborough Fair/Canticle" was the lead track of the 1966 album Parsley, Sage, Rosemary, and Thyme. Also, it was released as a single after being featured on the soundtrack to The Graduate in 1968.