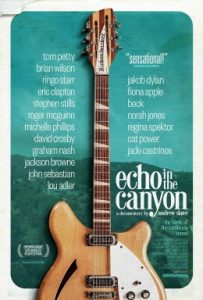 I watched an excellent documentary on Netflix this week about folk music in the mid-1960s. This music laid the groundwork for the transformation of folk music from acoustic to electric. Although I was only nine years old at the time, I soon became an ardent follower of these musicians. 
Echo In The Canyon celebrates the popular music that came out of L.A.'s Laurel Canyon neighborhood in the mid-60s. The Byrds, The Beach Boys, Buffalo Springfield, and The Mamas and the Papas cemented the California Sound. It was a moment (1965 to 1967) when bands came to L.A. to emulate The Beatles. They would put an indelible stamp on the history of American popular music. The film contains candid conversations and performances with the era's various musicians. Host Jakob Dylan talks with slightly younger followers Jackson Browne and Tom Petty (in his last film interview). In addition, he interviews contemporary musicians such as Beck, Fiona Apple, Cat Power, Regina Spektor, and Norah Jones. Eric Clapton describes how George Harrison used chord structures from a Beach Boys song when writing Tomorrow Never Knows.
Mom and dad had a console stereo in the living room of our first house in Springfield. It had an adapter that would let you play a stack of 45 RPM records. What a luxury in 1965. I remember listening to California Dreamin' while playing paper football on the living room table. So what are some of your favorite memories of these musicians?
Cast