Last month Linda and I celebrated our 36th anniversary. In what has become our tradition, Linda prepared a special meal: shrimp scampi and lobster tail with Caesar salad (with Linda's special homemade dressing), asparagus, and a glass of Chardonnay from a bottle (not a box) costing more than $6.
As I was taking a bite of the lobster it brought back memories of a Dan Fogelberg song called The Reach. We took time out from our meal to load this song on our stereo.
It's Maine…
And it's Autumn
The birches have just begun turning
Ever been to New England in the the Fall? One of our first vacations together was a trip to New England in September, 1981. We picked up a rental car at Logan international airport in Boston and immediately drove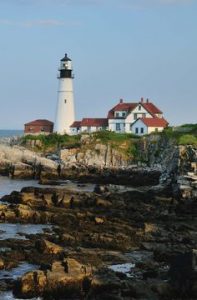 to Kennebunkport Maine. I will never forget the sensation as we stepped out of the car. The intoxicating smell of the honeysuckle vines and salty sea air. The beauty of the boats moored in the harbor and the lighthouse protecting ships from the craggy coastline. Sounds of seagulls competed with the crash of waves against the rocky coast.
We spent the next seven days exploring New Hampshire and Vermont. Covered bridges, State Parks, hiking trails, and unparalleled scenery. Each night we stayed in a different bed-and-breakfast. One night we sat on the floor of the living room in front of a roaring fire petting the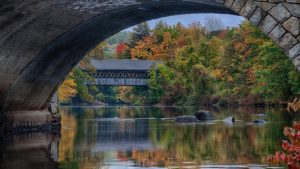 innkeeper's Labrador retriever. Another we met a couple from England that had come to the states on the QE2 luxury liner. They taught us how to play cribbage. Each morning we asked the innkeeper for recommendations on where to go. They helped us find a place to stay by calling fellow innkeepers. It was a very unscripted vacation. New England native Robert Frost described it  best in his poem The Road Not Taken
I shall be telling this with a sigh
Somewhere ages and ages hence:
Two roads diverged in a wood, and I —
I took the one less traveled by,
And that has made all the difference
This was the first of many vacations we would share throughout our 20s. We frequently opted for the "unreserved" strategy. Although we missed a few tourist sites we saw most destinations through the eyes of a native. Travel was an important part of our lives. Thankfully we took as many vacations as possible before my diagnosis of MS in June 1992. Now I live my travels vicariously through Lauren and Amanda.
Your assignment for this week: Share a special meal with your spouse or significant other with whom you have taken a special trip. Is there any special music that reminds you of this vacation?