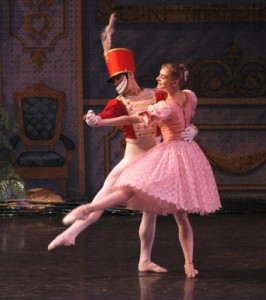 The Nutcracker is a two-act ballet, originally choreographed by Marius Petipa and Lev Ivanov. Pyotr Ilyich Tchaikovsky composed the score.
The ballet is adapted from E.T.A. Hoffmann's story "The Nutcracker and the Mouse King." It premiered at the Mariinsky Theatre in St. Petersburg on Sunday, December 18, 1892. It was on a double-bill with Tchaikovsky's opera, Iolanta.
The original production was not a success, However, the twenty-minute suite that Tchaikovsky extracted from the ballet was. Since the late 1960s, the complete Nutcracker has enjoyed enormous popularity. Furthermore, it is now performed by countless ballet companies, primarily during the Christmas season. Major American ballet companies generate around 40 percent of their annual ticket revenues from performances of The Nutcracker.
via The Nutcracker – Wikipedia, the free encyclopedia.
Those of you with daughters are probably intimately familiar with this piece, as am I. Maybe it even brings back fond memories of your days as a ballerina.
Here is a sample from the movement Waltz of the Flowers