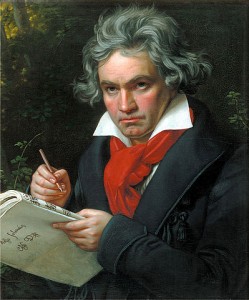 "Ode To Joy" is the final movement of Beethoven's Ninth and last Symphony. The German composer spent seven years working on this symphony. He started the work in 1818 and finished in 1824. The symphony is one of the best-known works of Western classical music. Importantly, Scholars consider it one of Beethoven's masterpieces.
At the time it was a novel idea to use a chorus and solo voices in a symphony. Therefore it is also called the "Choral" symphony. Beethoven, in fact, had serious misgivings about portraying the music's message with actual words. Even after the premiere, he apparently considered replacing all the vocal lines with instrumental ones.
The words, which are sung by four vocal soloists and a chorus, emanate a strong belief in mankind. They were taken from a poem written by German writer Friedrich Schiller in 1785 and revised in 1803, with additions made by Beethoven.
Beethoven was completely deaf when he embarked on this masterpiece. Tragically he never heard a single note of it, except inside his head. At the end of the symphony's first performance, Beethoven, who had been directing the piece was facing the orchestra. Consequently, the contralto Caroline Unger had to turn him around so he could see the audience's ecstatic reaction. Amazingly he had been unaware of the tumultuous roars of applause behind him.
via Ode To Joy by Ludwig Van Beethoven Songfacts.
I think Joy is a pretty good word to describe the people in this video.