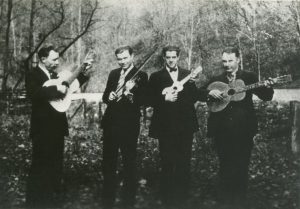 The third and final episode of AMERICAN EPIC, a three-part historical documentary will air on PBS tonight, Tuesday. May 30 at 8 p.m.
Go inside one of the greatest-ever untold stories: how the ordinary people of America were given the opportunity to make records for the first time. This three-part film, narrated by Robert Redford, melds space, time and technology to reveal the raw roots of American music. Tracing the odyssey of the first recording teams, from the gritty streets of Memphis to the Texas plains and the islands of Hawaii, American Epic captures the breathtaking variety and excitement of their discoveries. Starring: the Carter Family, Memphis Jug Band, Elder J.E. Burch, the Williamson Brothers and Curry, Dick Justice, Charley Patton, Hopi Indian Chanters, Joseph Kekuku, Lydia Mendoza, the Breaux Family, Mississippi John Hurt, and Blind Willie Johnson.
Over three episodes, narrated by Robert Redford, AMERICAN EPIC rescues this history. The remarkable lives of these seminal musicians are revealed through previously unseen film footage and photographs, and exclusive interviews with music pioneers, their families and eyewitnesses to the era.
Episode 103: "Out of the Many, the One"
Exotic cultures spanning America are captured on record for the first time — inventing new instruments and new cultural identities as disparate voices harmonize in a musical melting pot. The myriad threads of America's musical tapestry include Hopi priests traveling to Washington to defend their sacred snake dance; an 11-year-old Hawaiian boy who invents the steel guitar; a teenage Tejana shaking the border with a ferocious feminist tango learned from a gum wrapper; the fightingest frères on the bayou turning a lament for a pretty blonde into the Cajun national anthem; and a gentle Delta farmer who sings a nostalgic song of his hometown and inspires the greatest rediscovery of the '60s folk revival. Musicians featured: the Hopi Indian Chanters, Joseph Kekuku, Lydia Mendoza, the Breaux Frères, Mississippi John Hurt, Taj Mahal, Cyril Pahinui, and Louis Michot. Narrated by Robert Redford. 90 minutes.