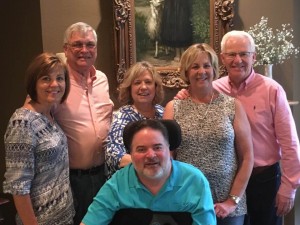 Hotel room. Check. Fuel for vehicle. Check. Meals along the way. Check. Two days with college friends. Priceless. There are some things money can't buy, For everything else there's MasterCard.
Last month two of Linda's sorority sisters Jean and Debi, came to visit. Husbands Don and John came too.  They drove one entire day to get here from Kansas City. It took them two days to get back. We shared memories, told stories and laughed a lot. We men learned that our spouses are not quite as angelic as they would like us to believe.
One week earlier my friend and fraternity brother Steve and his wife Jana came to visit. Steve and I went to a sports bar to watch March Madness games. Linda and Jana hosted a wedding shower. The bride? The soon to be daughter-in-law of another fraternity brother Marty.
Linda and I are both blessed to have sorority sisters and fraternity brothers with whom we still keep in contact. There is something very special about a friendship that has lasted decades.
You've Got a Friend In Me
You've Got a Friend in Me is a song written and first recorded by Randy Newman. Originally written as the theme song for the 1995 Disney/Pixar animated film Toy Story, it has since become the theme song for its sequels, Toy Story 2 (1999) and Toy Story 3 (2010) as well as a musical leitmotif throughout the whole Toy Story franchise. The song was nominated for both the Academy Award for Best Original Song and the Golden Globe Award for Best Original Song, but lost both to "Colors of the Wind" from Disney's Pocahontas