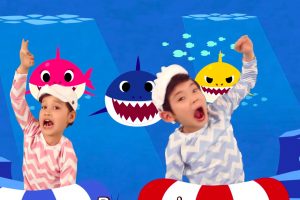 I was watching NBC news this week when they reported on a phenomenon taking the Internet by storm. As of this week, one of very few children's songs in history landed on the Billboard Hot 100. 
This infectious tune about a family of toothy fish made it onto the charts despite being not new. It also scored the highest debut of the January 12 edition of the Hot 100, popping up at No. 32.
The "Baby Shark Dance" video has been a global hit since it was first posted to YouTube in 2016, and it's easy to see why. For one thing, the shark dance is appealingly simple, something even the youngest toddler can do.
"Baby Shark Dance" is a bona fide YouTube hit. The video currently stands at nearly 2.2 billion views, making it one of the top 25 most-viewed videos in YouTube history.
Baby Shark has become a wholesome internet meme, bringing together people all over the world to do the "Baby Shark Dance". In fact, as far as wholesome memes go, this is one of the most wholesome, in that it's harmless and fun. Also, it is directly concerned with bringing people together instead of being cynical or snarking about the world.