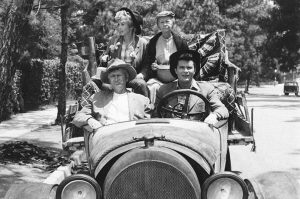 I hope you are enjoying Ken Burns' documentary on country music. The program continues tonight at 7 PM CT on your PBS station with episode 5. Episodes 6-8 air Monday – Wednesday. Catch up on any episodes you missed at pbs.org.
This week he takes us on a journey through the turbulent decade of the 1960s through 1996. Here's what you have to look forward to.
Episode 5 | "The Sons and Daughters of America" (1964 – 1968)
Watch as, in a time of cultural upheaval, country music reflects a changing America. Loretta Lynn addresses women's concerns, Merle Haggard champions the common man, and audiences look beyond color to embrace Charley Pride.
Episode 6 | "Will the Circle be Unbroken?" (1968 – 1972)
Learn how country music responds to a nation divided by the Vietnam War. Army captain turned songwriter Kris Kristofferson sets a new lyrical standard. Plus, artists like Bob Dylan and the Byrds find a recording home in Nashville.
Episode 7 | "Are You Sure Hank Done It This Way?" (1973 – 1983)
Witness a vibrant era in country music. Dolly Parton, Hank Williams Jr. and Rosanne Cash emerging from their famous fathers' shadows to find mainstream success. And Willie Nelson and Waylon Jennings launch the "Outlaw" movement.
Episode 8 | "Don't Get Above Your Raisin'" (1984 – 1996)
Learn how "New Traditionalists" like George Strait, Randy Travis, and the Judds help country music stay true to its roots. Witness both the rise of superstar Garth Brooks and the return of an aging Johnny Cash to the industry he helped create.