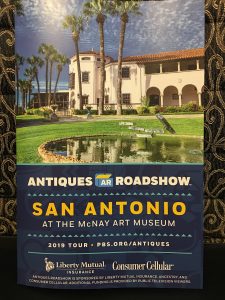 I had the chance to see the Antique Roadshow when it came to San Antonio in April. Each year Linda and I contribute to our local PBS station, KLRN. As a way to reward their Passport members, they gave a few of us tickets to the show. In January, I replied to an email invitation to be placed in a random lottery. Surprisingly, and much to my delight, I received my tickets a few days later.
Once I received my tickets I decided to check out the ANTIQUE ROADSHOW website for some advice.
ANTIQUES ROADSHOW cannot recommend which items you should bring. However, please be mindful of the size requirements. Otherwise, we simply suggest that you choose items that you would like to learn more about. Before deciding what to bring, you may like to click through our interactive slideshow feature "Things We Commonly See at ROADSHOW."
Of course, now I had to decide which items to take.
My cousin Kathy and her husband Mike came to visit in April. They brought three items which the antique roadshow appraisers evaluated. My friend Don and I headed to the McNay Art Museum for the show.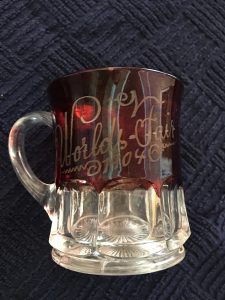 The first item the appraiser evaluated was a cup from the 1904 World's Fair held in St. Louis.
The 1904 World's Fair, also known as the Louisiana Purchase Exposition, was officially opened on April 30th by David R. Francis. Francis was the exposition's president, and he opened the Fair with the call, "Open ye gates. Swing wide, ye portals," to St.Louis, Missouri.
Despite being 115 years old these are common souvenirs that have been passed for generations. Thus, they would not likely be sold at auction.
Toys and Games
The toys and games specialist, Noel Barrett appraised two items for me.
Mr. Barrett is an active collector of optical and pre-cinema toys, lithographed paper and comic character toys, as well as salesman's samples and advertising icons. He has written numerous articles for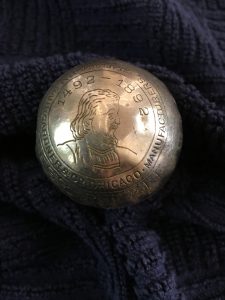 various collector publications, particularly Antique Toy World and currently he serves as president of the Antique Toy Collectors of America.
I remember playing with this stainless steel egg puzzle when I was a kid. It has a stainless steel ball inside that rattles when you shake it. We always thought the solution was to get it to stop rattling. As it turns out, the goal is to get it to stand on its end (which he demonstrated for me).
This was a souvenir from The World's Columbian Exposition (official shortened name for the World's Fair: Columbian Exposition. Also known as the Chicago World's Fair and Chicago Columbian Exposition), a world's fair held in Chicago in 1893 to celebrate the 400th anniversary of Christopher Columbus's arrival in the New World in 1492.
However, Mr. Barrett spent the most time with my final toy. Despite not having the key needed to wind it, he explained how it works.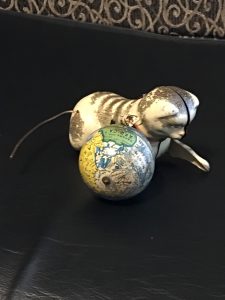 Wheels on the cat's belly start turning, causing the globe to rotate and the cat's tail to turn clockwise. When the tail reaches the floor in its rotation the cat flips over. Eventually, the tail completes its rotation and the weight of the globe forces the cat back on its stomach where the cycle repeats.
This was a German toy manufactured in the late 1940s. Its origin, and 70+ year journey remains a family
mystery.
Overall, my ANTIQUE ROADSHOW experience was highly entertaining. I recommended participating if you ever get the chance.