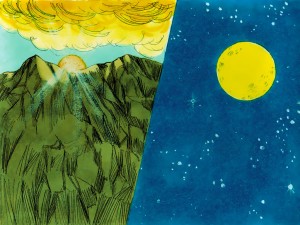 This will be my final post for the Essential 100. Please join me in December for Christmas Music.  I will finish with my favorite piece of classical music and my Essential One, the instruction by which I try to lead my life.  100 days ago we began this program with a piece of music called sunrise. It seems fitting to close with moonlight.  The Suite Bergamasque is one of the most famous piano suites by Claude Debussy. The third and most famous movement of Suite bergamasque is "Clair de lune," the French term for "moonlight".
Este será mi mensaje final para el esencial 100. Por favor, únanse a mí en diciembre de música de Navidad. Voy a terminar con mi música favorita clásica y escritura, mi One Essential, la instrucción por la que trato de llevar mi vida. Hace 100 días comenzamos este programa con una pieza musical llamada amanecer. Parece adecuado para cerrar con una selección llamada luz de la luna. El Bergamasque Suite es una de las suite para piano de Claude Debussy. La tercera y más famoso movimiento de la Suite bergamasque es "Clair de lune", el término francés para "luz de luna".
Questo sarà il mio ultimo post per la Essential 100. Unitevi a me nel mese di dicembre per il Natale di musica. Finirò con la mia musica preferita classica e scrittura, il mio One Essential, l'istruzione con la quale cerco di condurre la mia vita. 100 giorni fa abbiamo iniziato questo programma con un pezzo di musica denominato sunrise. Sembra opportuno chiudere con una selezione chiamata al chiaro di luna. Il bergamasco Suite è uno dei più famosi suite per pianoforte di Claude Debussy. Il terzo e più famoso movimento della Suite bergamasque è "Clair de lune", il termine francese per "chiaro di luna".
Source: John 13:34-35   Juan 13:34-35 (Español)  Giovanni 13:34-35 (Italiano)
John 13:34-35
34-35 "Let me give you a new command: Love one another. In the same way I loved you, you love one another. This is how everyone will recognize that you are my disciples—when they see the love you have for each other."