Chisos Mountains
The Chisos Mountains are a mountain range located in the Big Bend that is contained entirely within the boundaries of Big Bend National Park. This is the only mountain range in the United States to be fully contained within the boundary of a national park. It is also the southernmost mountain range in the mainland United States.
The Chisos Mountains support vegetation that includes Douglas fir, Aspen, Arizona cypress, Maple, Ponderosa pine, and Madrone. Mountain lions and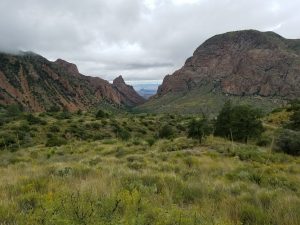 bears live in the Chisos Basin as well as dozens of species of birds.
Daytime highs in the summer rarely exceed 90 in the Basin and there is plenty of shade. The day we went to the Chisos Mountains was the only day I wore jeans and I was glad I did.
That night when we got back to our hotel in Alpine we were greeted with a spectacular lightning storm. It was a weird watching all this lightning without any rain or thunder.
"Wide Open Spaces" is a song written by Susan Gibson, and recorded by American country music group Dixie Chicks. The Dixie Chicks are an American country music band which has also crossed over into other genres, including pop and alternative country. The band is composed of founding members (and sisters) Martie Erwin Maguire and Emily Erwin Robison, and lead singer Natalie Maines.