Texas Hill Country Wedding   德克萨斯州乡村婚礼
This past weekend I attended a beautiful wedding in the Texas hill country. The occasion was memorable for several reasons. It began with the ceremony.
The officiant, (Lana) started by giving the emotional bride (Janet) and anxious groom (Andy) instructions. "I want you to face one another and look in each other's eyes. Memorize the details of what you see and what you feel. Notice how your heart is skipping a beat. Can you feel the butterflies in your stomach?" Janet and Andy nodded at one another.
"Good. Now I want you to remember this moment when you have your first fight."
Janet and Andy smiled and chuckled along with everyone in attendance.  It was a great way to start the ceremony.
Love 爱
Another powerful moment was the exchange of vows. Janet and Andy wrote their own vows, enlightening us about their eight year relationship, including how they met in high school (the teacher wrote their names on the board for talking in class), their first date (they agreed to be one another's senior prom date, if no one better came along), and their promises to one another for the future. They were emotional and sincere and incredibly vulnerable. It was a privilege to witness.
Friendship 友谊  
By the end of the ceremony, Lana had charmed all of us with her infectious joy and her obvious love for the bride and groom.  How, we all wondered, did the three of them become friends?
It turns out Andy was managing a wireless store when Lana brought her phone in because she was having problems. Two hours later, her phone was fixed. She was so grateful she tried to give Andy money so he could take his girlfriend out to eat. When he declined, she insisted he bring his girlfriend out to her house so she could cook them dinner. He accepted the invitation and their friendship was born. Eventually, he proposed to Janet in Lana's scenic backyard. When it came time to select someone to officiate their wedding, Janet and Andy felt Lana was the natural choice.  Only one problem. Lana had never done this before and was not a minister. The soon-to-be bride and groom walked her through an internet ordination process and she helped them design a personalized ceremony that they will remember for a lifetime.
International Gathering 国际聚会
Another memorable aspect of the wedding was the international diversity of the wedding guests. Many of Janet's family traveled from around the globe to attend the celebration. Several guests came from China. Others came from as far away as Sweden and New Zealand. Friends and family from both sides came from all over the United States to join in the festivities.  The bride's father offered words of welcome and a toast in English and Mandarin.
Honor, Spirit and Tradition 荣誉,精神与传统

The reception included an adaptation of a Chinese tea ceremony where the bride and groom pay honor and respect to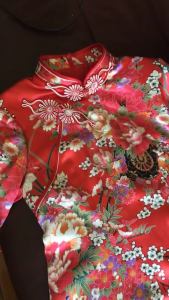 their elders. First Janet changed
into a Qipao, a traditional gown that was handmade for her in China. Six chairs were brought to the middle of the reception floor. The bride's parents, the groom's parents, and the groom's grandparents were seated. While a narrator offered an explanation to the wedding guests, the married couple served a cup of tea to each family member, thanking them for their love and support.
A Fairy Tale Wedding  
Andy and Janet I want to personally thank you for letting me be part of your special day. It was the most inspirational wedding I have ever attended. One suited for the fairytale romance of your life. As with all fairytales may you live happily ever after.
The icing on the cake was the song chosen for your first dance.
"You're the Inspiration" is a song written by Peter Cetera and David Foster for the group Chicago and recorded for their album Chicago 17 (1984), with Cetera singing lead vocals.